6 Refreshing Herbs to Grow for Winter Tea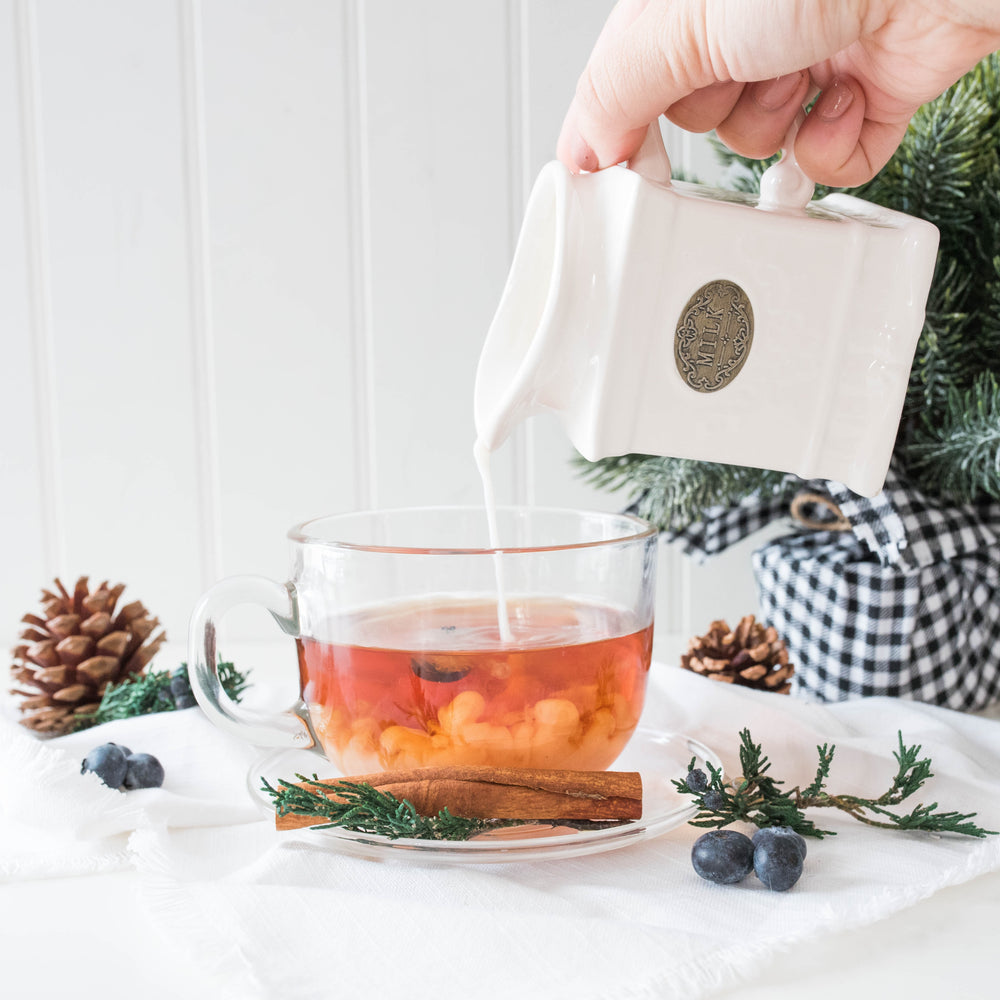 "Better to be deprived of food for three days, than tea for one." (Ancient Chinese proverb)
Nothing compares to the sensation of sipping herbal tea on a cold day. Each cupful warms your body, bringing a sense of tranquility. The best tasting herbal teas are those made using homegrown herbs that haven't been subjected to fertilisers and insecticides.
Today we've listed 6 delicious herbs you can grow in your Click & Grow smart garden for winter tea. Harvest them from your indoor garden and pop them straight into your mug or teapot. Look forward to some refreshing, caffeine-free tea this winter!
1. Peppermint
Since Ancient Egyptian times, peppermint has been used to soothe indigestion. Its refreshing menthol flavour makes it a popular choice for a cold winter evening. After a long day at work, come home, boil the kettle, harvest some peppermint leaves from your indoor garden, brew them in your favourite mug and relax. In addition to peppermint's delightful flavour, it's also a natural source of manganese, copper, vitamin C and antioxidants.
2. Lemon Balm
For centuries, lemon balm has been held in high esteem across many cultures. Throughout history it's been valued for its soothing effects. Avicenna, an ancient physician from the 11th Century claimed that it 'causeth the mind and heart to become merry.' These days, it's easy to see why. Lemon balm's gentle, lemon-mint flavour goes well with honey for a calming tea break. Lemon balm contains antioxidant properties and is a natural source of vitamin C.
3. Rosemary
Native to the Mediterranean, rosemary has been used since Ancient Greek and Roman times. Greek scholars sometimes wore a garland of rosemary to aid memory during examinations. When it comes to making rosemary tea, a little goes a long way. It possesses a strong flavour with hints of mint and lemon. It also has an invigorating, pine aroma. Rosemary is naturally high in antimicrobial, anti-inflammatory and antioxidant compounds.
4. Garden Sage
Sage has gained a lot of popularity in traditional Chinese and Indian medicine. It's also been valued highly in the Meditteranean as a remedy for indigestion and as a herb to boost the immune system. Sage tea has a gentle, sweet flavour with refreshing, earthy undertones. Many people have found that sage assists with sleep and helps them relax. Sage is a natural source of magnesium, zinc, and vitamins A, C and E.
5. Cinnamon Basil
Did you know that cinnamon basil is especially popular in Mexico? You'll find it growing in many gardens and it's greatly valued as a medicinal herb. Cinnamon basil is a narrower-leafed variety of sweet basil and is famous for its spicy, cinnamon-like aroma and taste. It also has unique, cinnamon-colored stems. Cinnamon basil is a natural source of vitamins A, C, K, iron and antioxidants.
6. Apple Mint
Apple mint is a popular garden herb that's native to Europe. In Ancient Greece it was commonly used for cleaning banquet halls and also as a bath herb. It has a gentle fruity aroma and a mild mint flavour, making it perfect for tea. Apple mint is a natural source of vitamins A & C. It's also rich in essential oils that have antiseptic properties.
Don't miss our "12 Days of Holidays" content, giveaways, and surprises! Subscribe to the campaign newsletter HERE.
Back to all posts