Best 4th of July Recipes from the Click & Grow team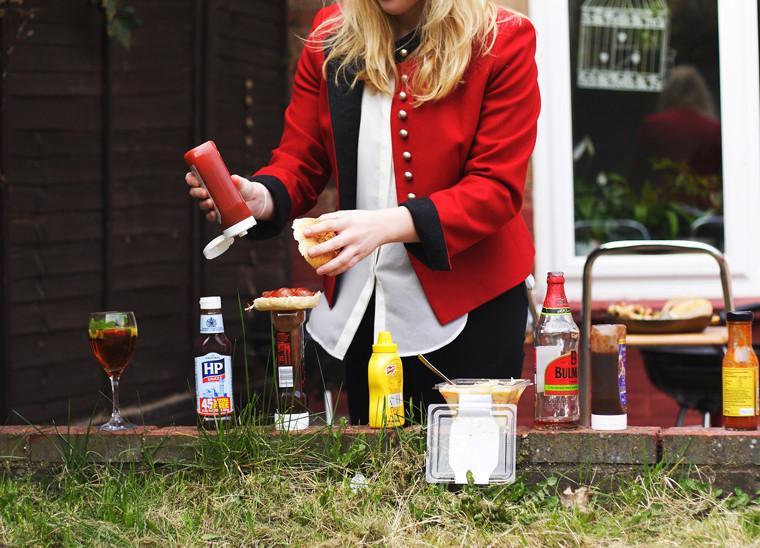 We love food. After all, we are a part of Click & Grow. And for the first time ever, we wanted to share our love for food with you by putting all of our 4th of July recipes together to create the most epic Independence Day feast ever - there's something for everyone. Cook 'em up, enjoy, and don't forget to drop us a snap on Facebook or Instagram!
Hearty, grilled and delicious - this is what an Independence Day feast should be all about. From all 4th of July recipes, I usually go for sliders - they're filling, tasty, and easy to put together even for a large group of people. My absolute favorite slider recipe is the Jalapeño Popper Turkey Burger Sliders  from  Feastie.com, however, I like to add a little bit of leaf mustard for freshness and spice (tbh, it's my favorite of all Click & Grow plants).
Image: Feastie.com 
What you'll need:
600g (1 1/4lb) of ground turkey
6 fresh jalapeño peppers
12 slices of bacon, cut in half
170g (6 ounces) of cream cheese
60 grams (1/4 cup) of mayonnaise
12 slices of cheese
5 green onions, sliced
12 slider buns
Smoked paprika
Garlic powder
Chili powder
Pepper
Olive oil
Salt
1. Make the patties. In a medium bowl, combine the ground turkey, green onions, a pinch of salt and pepper, and 1/4 teaspoon of garlic powder until well mixed. Shape the meat mixture with your hands and form 12 equal sized meatballs. Wrap each of them with one half slice of bacon, and then another half slice in the opposite direction. Place the bacon-wrapped meatballs, seam side down, onto a plate and press with your hand to flatten into a burger.  Repeat with the remaining meatballs.  Cover and refrigerate until ready to grill.
2. Make the spread. In a small bowl, combine the cream cheese, mayonnaise, 1/8 teaspoon of paprika, garlic powder, and chili powder. Spoon into a plastic baggie and refrigerate until ready to serve.
3. Grill. Preheat your grill to medium heat. Place the bacon-wrapped burgers (seam side down) onto the grill. Flip the burgers after 5 minutes. Grill for another 5 minutes, or until the bacon is crisp. Top the burgers with cheese slices.
4. Prepare the Jalapeños. In a bowl, toss the jalapeños with 1 tablsespoon of olive oil to coat. Grill alongside the burgers, flipping often, until the jalapeños are soft and charred. When cool enough to handle, slice the stems off and slice each one in half lengthwise to remove the seeds.
5. Put it all together. Cut the slider buns in half and place onto the grill, cut side down, to toast.  Pull the rolls apart and top each one with a burger, a jalapeno slice and some leaf mustard. Cut the tip off of one of the corners of the cream cheese mixture baggie and pipe onto the top bun. Grab some napkins and serve hot!
I've always been fascinated by how delicious simply boiled corn with sea salt tastes. That's it, just boiled corn and sea salt. No butter, no oil, nothing. It's an amazing snack or a side to delicious salads. However, I absolutely love to amp simple things up a little bit for celebrations. I found this amazing grilled corn with pesto and Parmesan recipe on Delish a little while ago, and I'm definitely making it for 4th of July this year. It's to die for. And suuuuuper simple.
Image: Delish
What you'll need:
4 fresh corns, husks removed
75g (1/3 cup) of pesto (our pesto mix is my absolute fave - check it out)
25g (1/4 cup) of grated Parmesan cheese
1. Grill. Grill the corn on high heat, turning occassionally, for about 10 minutes, until it becomes charred and tender.
2. Serve. Spread pesto over it, and sprinkle Parmesan on top. YUM. 
When it comes to food, I like to keep it simple and fresh. My favorite 4th of July recipe might not be up there as one of the traditional ones, but it's still very delicious - Beetroot and feta salad with our bloody sorrel. It makes a wonderful dish for the vegetarians at the party, as well as a fresh and juicy addition to all the meats and grills. And it looks truly vibrant!
What you'll need:
Cooled boiled beetroot, in cubes
Feta cheese cubes
Bloody sorrel (or spinach)
Fresh orange juice
Olive oil
Salt
1. Toss. Place the cubed beetroot, feta, bloody sorrel in a bowl, add a pinch of salt and a splash of olive oil and freshly squeezed orange juice, and toss everything around.
2. Top and serve. Place the salad in a serving bowl, sprinkle with feta cheese cubes and top everything with a couple of bloody sorrel leaves.
On a holiday of meats, breads and whipped cream, I always like to have some options of fresh and juicy harvest, so my 4th of July recipe is all about that. Enjoy!
What you'll need:
A bunch of strawberries
A pinch of salt
50g (1/4 cups) of brown or coconut sugar
Chopped basil and peppermint
Grated orange peel
A couple of tablespoons of fresh orange juice
1. Mix it all together and serve. It's that simple!
I'm sure you've gone through hundreds of 4th of July recipes, but every feast should have a great quality bread on the table. If you don't have the time or the will to bake your own, there's this Good Food Magazine recipe that will still make your store-bought ciabatta absolutely spectacular.
Image: BBC
What you'll need:
1 tablespoon of mayonnaise
2 tablespoons of softened butter
1 bunch of fresh basil
1 small ciabatta, sliced lengthways
2 tablespoons of grated Parmesan
2 crushed garlic cloves
1. Prepare the spread. Beat mayonnaise, butter and garlic cloves together until smooth. Chop basil, add to the mixture and season with salt and pepper to taste.
2. Grill. Spread the mixture over the ciabatta, sprinkle with grated Parmesan and grill for 2-3 minutes.
I love to surprise the team with something home-baked once in a while. And, since I'm a vegetarian foodie, I make them try anything from home-baked gluten free bread to zucchini pizzas and vegan birthday cakes. So when it comes to 4th of July recipes, my favorite will totally have to be my gluten free wild strawberry shortcakes, inspired by FoodNetwork.
Image: FoodNetwork
You'll need:
About 400g (2 cups) of clean, halved strawberries
A handful of wild strawberries (if you don't have them, you can use about 200g (1 cup) of regular garden strawberries instead)
Fresh lemon juice
Brown or coconut sugar, or maple syrup
About 130g (a little more than 1 cup) of almond flour
85g (a little more than 1/3 cup) of unsalted butter, cut into small pieces
170g (6 ounces) of Greek yoghurt
2 tablespoons of coconut flour
2 teaspoons of baking powder
1/4 teaspoon of baking soda
1 teaspoon of vanilla extract
Whipped cream
Salt
1. Prepare. Preheat the oven to about 200°C (400°F).
2. Marinate the strawberries. Add 1 tablespoon of sweetener of choice (brown sugar, coconut sugar or maple syrup) and a splash of lemon juice to the strawberries and gently toss them around in a bowl. Then leave them to marinate for about 30 minutes.
3. Blend up the dough. Put the almond and coconut flours, baking powder and soda, a pinch of salt and 2 tablespoons of your sweetener in a food processor and combine. Then add the butter and pulse until the mixture starts turning into crumbs. Then add the yoghurt and vanilla extract, and combine.
4. Bake the shortcakes. Dust a piece of parchment paper with flour and pat out the dough to be about 2 cm thick (3/4 inches). Take a cookie cutter or a glass, cut out 6 pieces, and brush the tops with water. Bake for about 12 minutes or until golden, and then let them cool on the pan. 
5. Decorate and serve. Split the biscuits in half (horizontally), and place the strawberries, their juice and whipped cream in between them. Top with a whipped cream hat and a wild strawberry from your Smart Herb Garden!
Back to all posts