Father's Day: 3 Garden Bundles That Will Make Your Dad Feel Special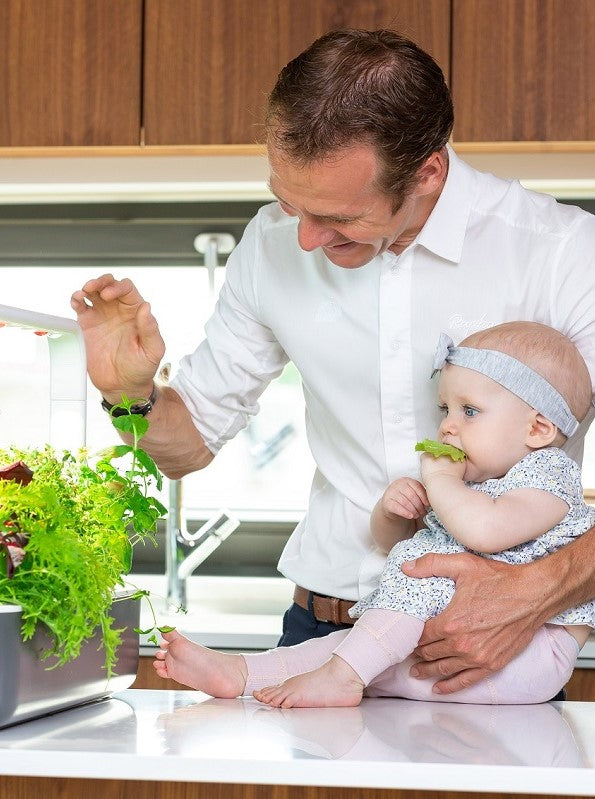 Dads are awesome. Sure, we like to tease them about their sense of style, their quirky sayings and their eccentricities… But the truth is we'd be lost without them.
Father's Day is an opportunity to celebrate all of the father figures in our lives; those who've sacrificed so much to help us get to where we are today.
Why give him a cliché mug that says 'Best Dad in the World'? He's probably still got the one you gave him last year. It's highly unoriginal. Candies? He's sweet enough already.
Give Dad something unique and unexpected. Something fresh, natural and sustainable. Something he can enjoy using everyday, for years to come. Why not give Dad his very own indoor gardening experience?
Gifts of nature are an amazing way to express your love. With that in mind, we've put together 3 limited edition Click & Grow bundles designed to make dad smile.
Bundles contain a beautiful, self-growing Smart Garden 9 or a Smart Garden 3 (depending on whether you order a 'large' or 'small' set) along with a selection of fresh, organic plants. Smart Gardens will enable Dad to grow his favorite herbs and spices from the comfort of his home, any time of year.
They say the way to a man's heart is through his stomach… These bundles are bound to whet his appetite.
The Foodie Set
The ultimate bundle for dads who love cooking and reminding you of the culinary flair they possess. Featuring some of our most popular herbs, the foodie set will elevate dad's cooking to even greater heights. Get ready… He'll probably invite loads more relatives over for dinner now.
Large set includes:
Small set includes:
The Chili Set
The perfect bundle for hot dads who love spicy food. He'll get to grow the freshest organic spices from home, no matter the season. This gift is so thoughtful and specific, he'll be drooling as he opens it. If you want to become his favorite child, just give him this.
Large set includes:
1x Purple Chili Pepper (3 pack)
1x Yellow Chili Pepper (3 pack)
Small set includes:
1x Purple Chili Pepper (3 pack)
The 'It's 5 o'clock somewhere' Set
For dads who love to relax with an exquisite cocktail while channeling their inner bartender. Featuring fresh herbs perfectly suited for beverages, this bundle will open up a whole new world of tastes and experiences. Don't be surprised if he starts using phrases such as 'shaken, not stirred' in everyday language.
Large set includes:
Small set includes:
Click
HERE
for full details on all bundles and to order yours today
Back to all posts