Gardener of the Month - Featuring Malou from Massachusetts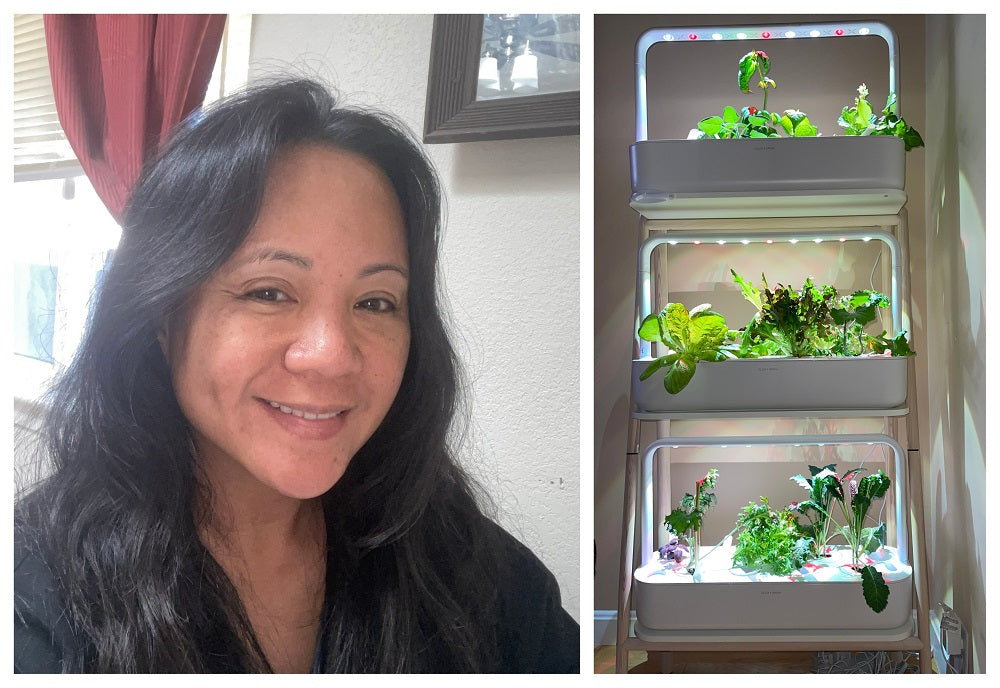 Meet Malou, our gardener of the month from Massachusetts, USA. She talks about how gardening's impacted her life and shares some great tips for new growers.
What does gardening mean to you and what role does it play in your life?
Indoor gardening has multiple purposes for me. 1) A hobby that has kept me busy indoors during the pandemic and winter season. 2) A source of healthy home-grown produce year-round. 3) My Smart Garden 27 provides a source of light during the dark winter season and is so pretty that it serves as a piece of home decor next to our dining table. 
When did you start growing with us and what's been the highlight of your indoor gardening journey?
I bought the Smart Garden 27 during the Black Friday sale in November 2021. I have been growing hydroponically since 2020 and have many systems from different companies. Click and Grow lives up to its name; click those parts together, drop the pod and watch them grow.  This system requires the lowest maintenance of all of my systems. 
Which plants do you enjoy growing the most and why?
I like to experiment growing new things but I stick to what we eat the most; salad greens, Asian greens, blooming plants, tomatoes and cucumbers. 
What advice would you give new growers?
My advice to new growers: 
1) think of the best system for you based on what you want to get out of it. 2) Like gardening outdoors, not everything will grow. Be patient, and ask questions. 3) Don't think about ROI (return on investment), the benefit of home-grown food and healthy living outweighs the cost. It's a long-term investment. 4) Lastly, enjoy the journey. 
Malou's creation: Steamed mixed Asian greens added to leftover turkey soup (bokchoy, mustard greens, chijimisai and Tatsoi).
Many thanks, Malou, for sharing your experiences with us.
Stay tuned - next month we'll be featuring another gardener chosen by our Facebook community!
Explore more:
All images by Malou
Back to all posts