Gift Ideas - Indoor Spice Garden for Spicy Food Lovers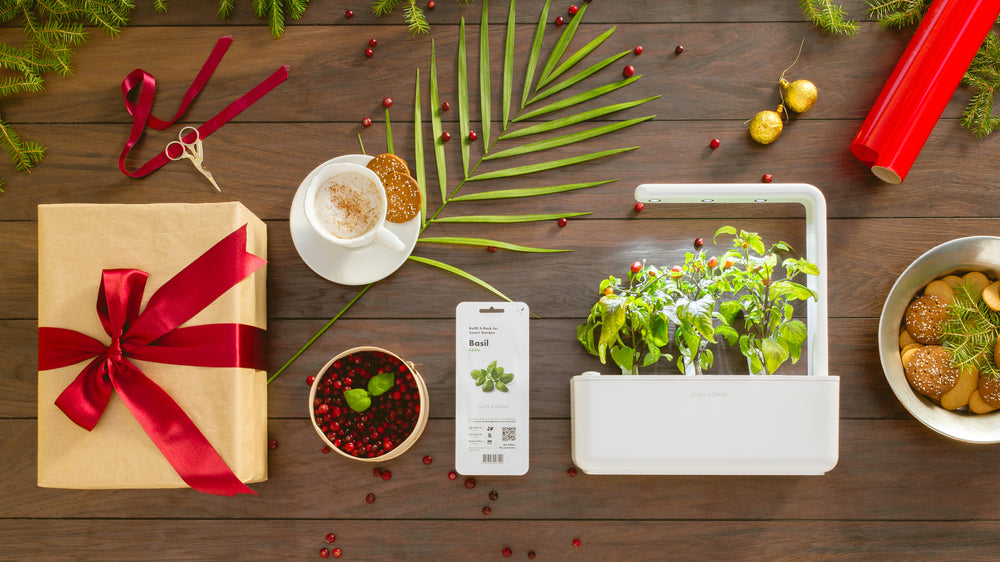 We all know someone in our lives who enjoys spicy food. 
Why not give them the chance to grow their own hot peppers this Christmas and beyond? 
All they need is a Click & Grow self-watering indoor garden and a selection of plant pods. Here are some suggestions:
Smart Garden 3
Cute, compact and ideal for kitchen tops, windowsills, bedrooms, and even offices. This 'set it and forget it' garden grows three organic plants at a time.
The peppers they'll grow will taste fresher than any found in supermarkets.
Smart Garden 9
Features all the technology of the Smart Garden 3 but with space to grow even more plants (9 all at once!) Perfect for advanced indoor gardeners but also easy to use for beginners.
Chili Pepper
The original Click & Grow classic. It can be enjoyed raw, cooked, or dried and powdered. Chili Pepper's fresh, pungent flavour adds a hot spark to everyday meals.
Purple Chili Pepper
More pungent than regular chili peppers. Chop them up and enjoy in sandwiches, burgers, stir-fries or stews.
Yellow Chili Pepper
Yellow Chili Peppers have a smooth texture and a sweet, peppery taste. They can be cooked, roasted, grilled, chopped and stir-fried to make some piquant dishes.
Piri Piri Chili Pepper
Piri Piri Chili Peppers are ideal for making sauces. Their bright, citrusy flavour also complements poultry and fish. 
Red Hot Chili Pepper
The hottest chili in our collection. Perfect for those who enjoy the spiciest cuisines.
For more inspiration, head over to www.clickandgrow.com. Discover how the Smart Garden 3 and Smart Garden 9 make growing fresh, organic food and flowers at home easier than ever.
Fully automated indoor gardens that grow plants for you while making sure they have enough water, light, oxygen and nutrients.
Be sure to check out our
blog
for valuable features such as
green living tips
,
ways to create
sustainable homes
,
the importance of
food safety
,
how to grow plants indoors
,
amazing life lessons plants teach us
, and much more.
Back to all posts