Grow seasonal food with smart gardens any time of year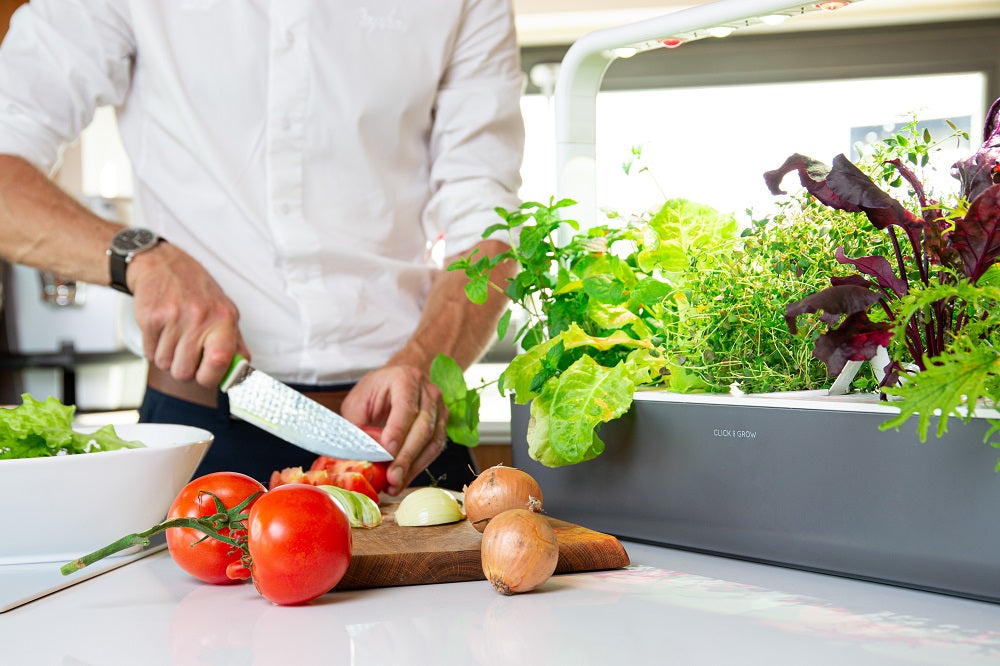 Have you ever heard someone describe food as being 'in season' and wondered what they're talking about? They're referring to the time of year when a certain food is full of flavour and ready to be harvested. 'In season' also refers to the time of year when a particular food is freshest and most affordable to buy.
What's the benefit of eating food in season?
Seasonal food tends to be more nutritious than food consumed out of season. A big reason for this is because you can buy it directly from a local grower shortly after it's harvested and still contains great nutritional value. Seasonal food produced by local farms often tastes fresher as it hasn't been exposed to hundreds of miles of transport pollution. Out of season food has been harvested early so it can be shipped to supermarkets, often compromising on freshness and flavour.
Growing your own seasonal food with indoor gardens
With a Click & Grow smart garden, you don't have to wait for your favourite herbs, salads, fruits and vegetables to be in season. You can start growing them any time of year and enjoy them at their maximum nutritional value. Our plant collection currently contains over 60 plants including seasonal favourites such as bell peppers, kale, lettuce, strawberries, chard, and tomatoes. 
Growing with a smart garden means your produce only needs to be harvested when it's ready, leading to fresher and more nutritious food. Homegrown food also comes with the peace of mind that your fruits and vegetables are free from harmful substances. 
Image: @thismamaloveslife
As well as this, you can start growing plants in your smart garden before transplanting them in your outdoor garden. For instance, bell peppers, strawberries and tomatoes are traditionally in season during summer. You can already grow them ahead of time in your smart garden and transplant them outdoors when summer arrives. Instead of going to the store to buy seasonal fruits and vegetables, you can enjoy fresher, more nutritious ones that you've already grown.
To help you plan which plants to grow ahead of time, be sure to check their growth cycles. You can check the growth cycle of any of our plants by: 
You can also contact our expert gardeners with any plant based questions using our 'Ask a Gardener' forum.  If you'd like to transplant your plants outdoors, check out this helpful tutorial:
Recipes to try
Summer's almost here but in the meantime produce such as arugula, chives, strawberries, and peas are especially popular during spring. All of these can be easily grown in your smart garden. Here are some ideas for using them:
Arugula Spring Salad
Image - livelytable.com
Ingredients
Get instructions here
Credit: Lively Table
Chunky Spring Vege Pasta with Chives
Image - healthyfood.com
Ingredients
Get instructions here
Credit: Healthy Food Guide
Spring Strawberry Lemon Oatmeal
Image - nutritionbymia.com
Ingredients
Get instructions here
Credit: Nutrition By Mia
Spring Pea Medley with Edible Bowl
Image - allrecipes.com
Ingredients
Get instructions here
Credit: All Recipes
Enjoy a stress-free way to grow wholesome food, any time of year
Fully automated
indoor gardens
that grow
plant pods
for you while making sure they have enough water, light, oxygen and nutrients.
Back to all posts