Sustainable Eating: 5 Secrets to Beautiful Homemade Meals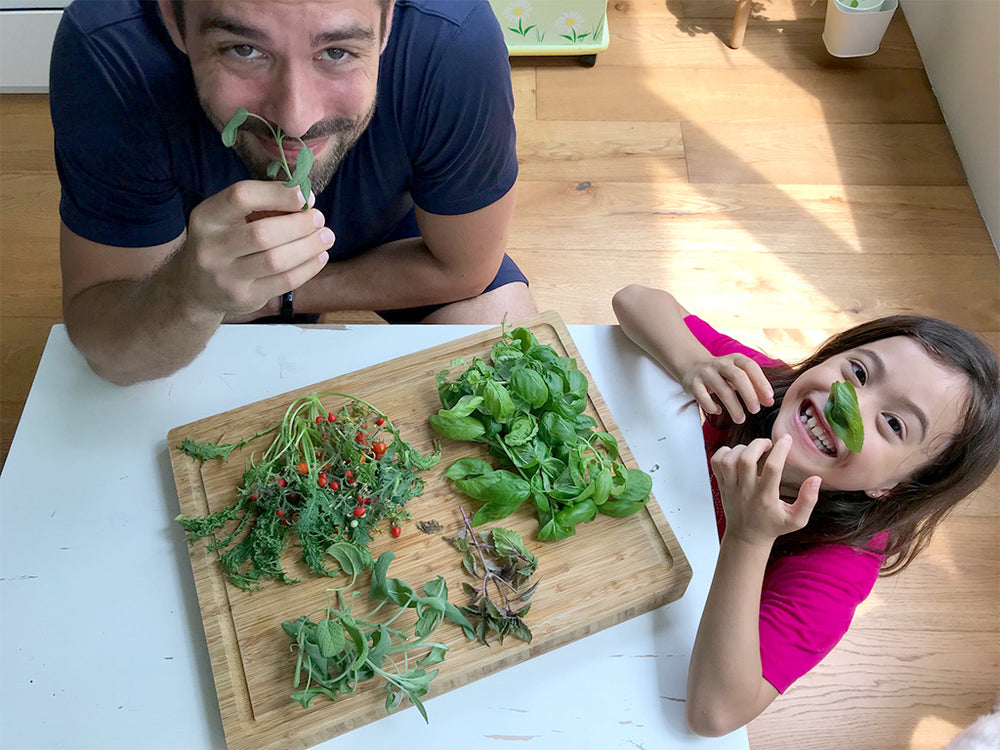 We eat with our senses. What we see, smell, and feel can influence how we experience our meal. In fact, research even suggests that the way food is presented can make a dish taste better. In the study conducted at the University of Oxford, 60 participants ate 3 salads each. They were asked to rate each one before and after they ate them. One salad was put together randomly, one was arranged neatly and one was arranged to look like a painting by artist Wassily Kandinsky. Despite each salad containing the same ingredients, participants decided that the one resembling a painting tasted best.
Image: researchgate.net
If you love cooking at home, here are some simple, sustainable ways you can make your homemade meals look more appealing:
1. Grow fresh looking food
Fresh, unprocessed food doesn't only taste better, it also looks better. It's pretty easy to tell fresh greens from those that are old. Salad greens, for instance, should look vibrant and crisp without any wilting or spots. With a Click & Grow Smart Garden, you can grow fresh food that looks like it's just arrived from a local farmer's market. It's a garden-to-plate experience. You simply add plant pods, add water, plug the garden in and start growing. When your plants are ready, just harvest them from your smart garden and pop them directly onto your dinner plate while they're still fresh.
Image: @theathertonhouse
A smart garden gives you control over how much you grow, meaning you'll waste less ingredients. Homegrown food also comes with the peace of mind that your ingredients are free from harmful substances. Furthermore, you'll never have to wait for your favourite cooking ingredients to be in season. You can start growing them any time of year in your indoor garden and enjoy them when they look and taste freshest. Click & Grow's plant pod collection contains over 60 plants for you to use, including favourites such as red sweet pepper, kale, lettuce, strawberries, chard, and tomatoes. 
2. Grow herbs for garnish
Herbs can make even the simplest dishes look more attractive. Their vibrant green leaves help to whet the appetite. Popular Click & Grow plant pods for garnish include basil, parsley, rosemary and thyme. You can also garnish using decorative plant pods such as black pansy and cockscomb. 
Image: @stylerightblog
Here's a really simple way to use Click & Grow basil as a garnish:
Get a couple of stalks of 

basil

. Gently strip off the leaves using your fingers.

Tear each leaf into five or six pieces. Tearing (as opposed to chopping) helps release the aroma and flavour from the leaves.

Sprinkle the leaves over your dish (works especially well with dishes that include tomato such as pasta).
If you're making a cocktail, here's how to use Click & Grow peppermint as a garnish:
Get a couple of sprigs of 

peppermint

. Tap them against your hand to release the flavour and aroma (peppermint's bright minty flavour is found in the veins of the leaves).

Gently pick the leaves off the stems.

Bunch the leaves together like a mini bouquet and place them in the cocktail.
By garnishing with herbs, you can create homemade meals that look artistic and well planned.
3. Grow contrasting colours
Why use only green plants? Add visual appeal to your meals by including plants of varying colours. With a Click & Grow smart garden you can grow plant pods such as yellow sweet pepper, red basil, purple chili pepper, and many more. Having more colours on your plate often means your meal is more nutritious as the colors correspond with key nutrients. Many countries are now endorsing a planetary healthy diet which means constructing your plate in the following way:
Half of your plate consists of vegetables and fruits. 

The remaining half consists mainly of whole grains, plant protein sources and unsaturated plant oil.

Modest amounts of animal sources of protein are optional.
Here's an example from Canada's food guide of how to make a colourful, 'Three Sisters soup' based on the planetary heath diet:
The Click & Grow Fruit and Veggie Mix 9-pack is a perfect starting point for experimenting with colourful plants. It contains 3 x wild strawberry, 3 x chili pepper and 3 x yellow mini tomato plant pods to grow in your smart garden. Use colourful plants to make rainbow salads or add some to your favorite casserole, stew, or soup. If you're making a side salad, don't just settle for green lettuce. Throw in some plants such as red chard, red kale or yellow mini tomato. Interestingly, red and yellow are prime food colors that stimulate our taste buds and appetite. It's no surprise the fast food industry uses this colour combination to great effect.
4. Choose the right plate
Your plate is your canvas. Take a look at your favourite food influencers on instagram. More often than not, they'll use plates that enhance the presentation of their food. Plain, slightly oversized plates will highlight your food and make it look like a meal from a high-end restaurant. Every now and then, why not mix it up a little and serve your food on square shaped plates or wooden chopping boards to add intrigue? Another handy tip is to avoid overcrowding your plate. Smaller portions are easier to style and allow each component of the meal to stand out.
Image: @janiewei
Eco-friendly plate materials to consider:
Ceramic
Contains only naturally-occurring raw materials (clay) and is 100% recyclable. 
Porcelain
Durable and can handle many uses. It's made of clay, flint and silica, which are readily available natural materials.
Glass
When glass breaks down, it remains stable and releases no harmful chemicals. Even when it isn't recycled, it does minimal harm to the environment.
Bamboo 
An example of compostable dinnerware. In order to be biodegradable, it must be natural, with only plant-based finishes.
5. Express your personality
Finally, remember there's no such thing as the 'perfect way to present a meal'. A home cooked meal should have a rustic, natural feel to it. Don't fret too much over crumbs, broken bits or divots! While it's great to learn from your favourite chefs, you yourself can be a trendsetter. Take tips from different sources but ultimately present your food in a way that fits your personality. Don't go overboard trying to be a formal version of yourself if it doesn't feel right. 
Image: @urbanfarmerly
Let the food speak for itself and embrace the fact that you're a passionate home cook. As renowned chef, Giada De Laurentiis, once said: "There's nothing like a home-cooked meal - nothing! When people ask me what the best restaurant in L.A. is, I say, 'Uh, my house.' It's more intimate. Food can connect people in a forever sort of way."
Back to all posts