7 Mouthwatering Sauce Recipes You Can Make With Fresh Herbs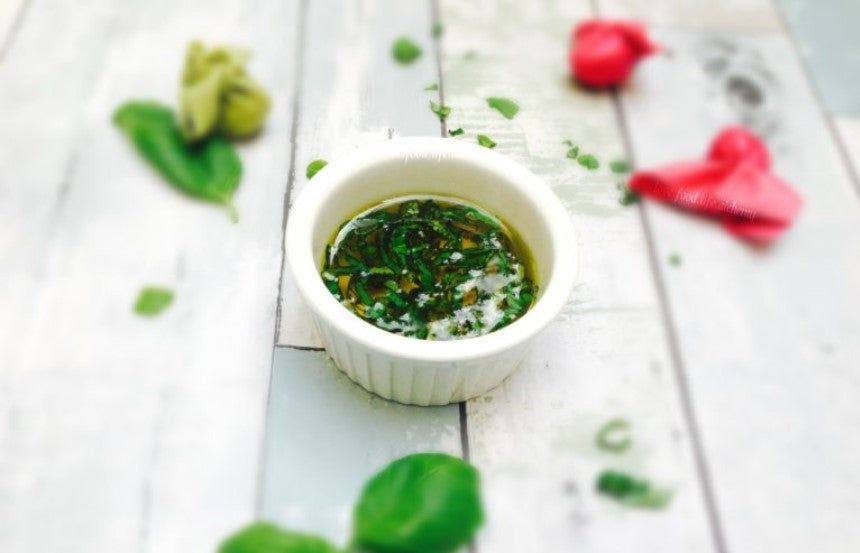 Wondering what to do with some of the leftover herbs you've harvested? Why not create a delicious herb sauce? Sauces instantly add texture, juiciness and visual appeal to an ordinary, everyday meal. By adding a delicious sauce, you can transform a good home-cooked dish into an excellent one that you and your guests will remember.
To inspire you, we've rounded up some tasty sauce recipes that feature fresh herbs you can easily grow in your smart garden. Have fun experimenting with these and perhaps even come up with some of your own!  
1. Creamy Thyme Sauce
An indulgent, delicious sauce for your vegetables, pasta and potatoes. Takes 10 minutes to make.
Image: sobeys.com
Ingredients:
4 Tablespoons Butter

3 Tablespoons Flour

2 cups Whole Milk, Heated

½ cups Grated Parmesan

1 teaspoon Garlic Powder

1 teaspoon Dried

Thyme

Salt To Taste

1 dash Freshly Grated Nutmeg

1 dash Freshly Ground Black Pepper
Get instructions here
Credit: Tasty Kitchen
2. English Parsley Sauce
If you're looking for a sauce that perfectly complements fish such as cod, gammon and salmon, this is the one. This classic takes less than an hour to prepare and cook.
Image: bbc.co.uk/food
Ingredients:
450ml milk

50ml double cream

parsley

stalks

½ onion, peeled

1 bay leaf

1 blade mace

6 peppercorns

40g plain flour

40g butter

8 tbsp fresh

parsley

, finely chopped

lemon juice

salt and pepper
Get instructions here
Credit: Riverford Organic Farmers
3. Garlic-Chive Sauce
Drizzle this delicious sauce over salad or use it as a dip. Takes just 10 minutes to make and 30 minutes to chill before serving.
Image: strudelandschnitzel.com
Ingredients:
3/4 cup light sour cream or light mayonnaise

1 garlic clove, minced 

1 tablespoon chopped fresh

chives

 

3/4 teaspoon lemon zest 1 

1/2 tablespoons fresh lemon juice 

1/4 teaspoon salt 

1/8 teaspoon pepper
Get instructions here
Credit: Southern Living
4. Oregano Tomato Sauce
A unique twist on classic tomato sauce. Goes especially well with potato dishes, pasta or meat. Ready in 10 minutes.
Image: ricardocuisine.com
Ingredients:
3 cloves garlic, chopped

2 tbsp (30 ml) olive oil

2 cans (28 oz/796 ml each) San Marzano tomatoes

1 tsp dried

oregano

1 tsp salt

½ tsp red pepper flakes

Fresh

oregano

leaves
Get instructions here
Credit: Ricardo Cuisine
5. Real Mint Sauce
A popular condiment for meat but can also be enjoyed with toast. Takes less than 30 minutes to prepare and even quicker to consume!
Image: bbc.co.uk/food
Ingredients:
bunch of

mint

pinch salt

4 tbsp boiling water

4 tbsp white wine vinegar

1 level tbsp caster sugar
Get instructions here
Credit: BBC Food
6. Rustic Lemon Basil Sauce
Basil and lemon are always a winning combination. Enjoy this sauce with fish, salad, or as a dip with bread. Takes just 10 minutes to prepare.
Image: lovefoodlifealchemy.com
Ingredients:
1/4 cup extra-virgin olive oil

1/4 cup fresh

basil

(chopped)

1 tablespoon grated lemon zest

salt

Pepper
Get instructions here
Credit: Love Food Life Alchemy
7. Sage Brown Butter Sauce
A traditional French-style sauce that complements fish, pasta, ravioli or roasted potatoes. Ready in 8 minutes.
Image: thespruceeats.com
Ingredients: 
8 tablespoons butter (1 stick)

1 clove garlic (crushed and chopped)

1/4 cup

sage

leaves (coarsely chopped)

1/8 teaspoon ground black pepper

Salt (to taste)
Get instructions here
Credit: The Spruce Eats
Grow the freshest, tastiest ingredients for your meals. Stress free.
Fully automated
indoor gardens
that grow
plant pods
for you while making sure they have enough water, light, oxygen and nutrients.
Back to all posts